Counselling following an Ectopic Pregnancy
What can the impact of an ectopic pregnancy be?
The nature of an ectopic pregnancy means that you (or you and your partner) had very little time to deal with the fact that you were pregnant, before that pregnancythen ended. In addition to coping  with the loss of the pregnancy, you may also,possibly, be dealing with any invasive surgical and medical procedures that you, or your partner, had to go through suddenly. You may also have to deal with the impact the ectopic pregnancy has had on your fertility (or your partners fertility).
You may be experiencing some, or all, of the following:
The grief of losing your pregnancy and the grief of losing plans of a future child
The impact of sudden and shocking surgery and / or medical intervention either yourself or as the partner of a female who went through this
Wondering "what now?" Do I try for a pregnancy again? If so, when? Am I ready?
The ectopic pregnancy had a possible or actual negative impact on your, or your partners, fertility
Difficulties with your partner following the experience of an ectopic pregnancy
Anxiety about another ectopic pregnancy: thoughts such as "what if it happens again?" "I don't feel ready", "my partner is ready but I'm not"
You may be the partner of someone who has experienced an ectopic pregnancy and are struggling with your feelings about what has happened alongside dealing with the feelings your partner is experiencing
Taking all this into account, it is not surprising that an ectopic pregnancy can be a traumatic experience as you, and perhaps your partner, attempt to deal with the physical and emotional impact of what you have experienced. It is a frightening and distressing time.
How can counselling after an ectopic pregnancy help?
Counselling for this issue can be useful, for many reasons, one if which is looking at the possible traumatic impact of what you have gone through. It can be a space to explore some, or all, of the following:
Understanding trauma, trauma reactions and how to deal with traumatic reactions
A space to allow and process grief, for the loss of the unborn child
Process the sense of "overwhelm" and shock
Discuss your feelings around the issues you may feel have arisen with your partner as a result, or part of, the experience of an ectopic pregnancy
It may be that you or your partner experienced an ectopic pregnancy some time ago. You find that suddenly feelings about the past ectopic pregnancy have emerged at a point that you thought they were no longer 'an issue', or these feelings are presenting for the first time. These emotions may have been triggered as a result of you trying for a child again, but this may not be the case, the trigger may be to do with something completely unrelated or sperate to this, perhaps the news of a friend's pregnancy or healthy birth
Counselling following an Ectopic Pregnancy
At whatever point, however long ago, and whether as the person who experienced the ectopic pregnancy or the partner of someone who did, counselling is somewhere that allows space to explore painful, frightening, confusing and overwhelming feelings.
Most importantly, it is a private and confidential space that is for you alone; where you can look at this situation for yourself without fear of judgement.
If you are suffering emotionally and would like to discuss your feelings and concerns, then contact Rachel Buchan to find out more about counselling after an ectopic pregnancy.
Useful advice and further information about Depression
Miscarriage Association
Have produced this helpful leaflet that you can download or print off.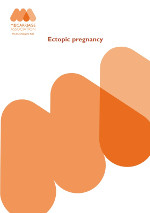 City Pregnancy
City Pregnancy specialise in counselling for pregnancy and pregnancy loss, including ectopic pregnancy:
www.citypregnancy.org.uk/
The Ectopic Pregnancy Trust
This website has thorough information on ectopic pregnancy; from 'what it is and symptoms', through to 'emotions following an ectopic pregnancy', 'help for men coping with emotions after ectopic pregnancy' etc.:
http://www.ectopic.org.uk/
They also have a helpful page to help you identify the possible signs and symptoms of an ectopic pregnancy